Simon Fell > Its just code > SFX100 Build Log: Step 1, Adventures in profile
First step in the actuator build is to install the threaded inserts into the aluminum profile. 4 Profiles, 4 inserts per end, 32 total.
As mentioned in the ordering post, I brought my aluminum profile from a fellow iRacer. They didn't however have the matching thread inserts that kinetic sells. I wasn't able to find these from anywhere, and ended up with some different ones, just to keep things interesting.
Kinetic insert left, inserts I ended up with on the right. Note that the Kinetic insert has a nice shoulder that helps keep things square when inserting them. Another nice thing about the Kinetic insert is that it has an internal hex, allowing it to be installed with an allen wrench. The info for my inserts mention a specific insertion tool, but i couldn't find anywhere selling them. The insertion tool though is basically a threaded shaft with a nut on it, I made my own with an M8 bolt and nut.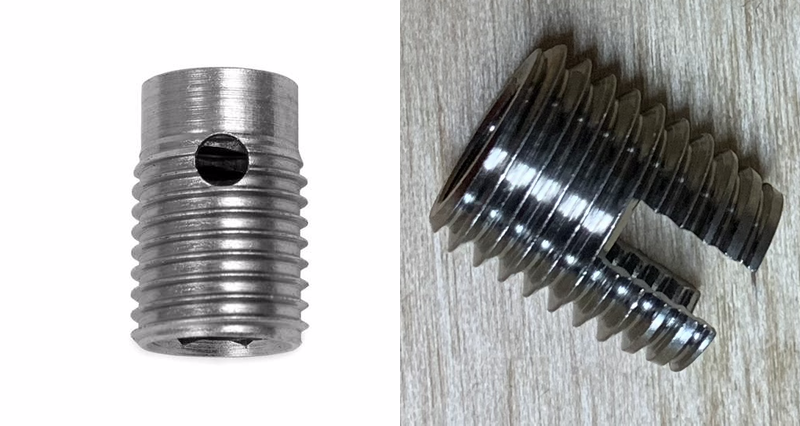 The inserts claim to be self tapping, but have no leading taper, making them very hard to get started. I ended up using a M12 tap in the profile to cut a starting thread that the insert can then use.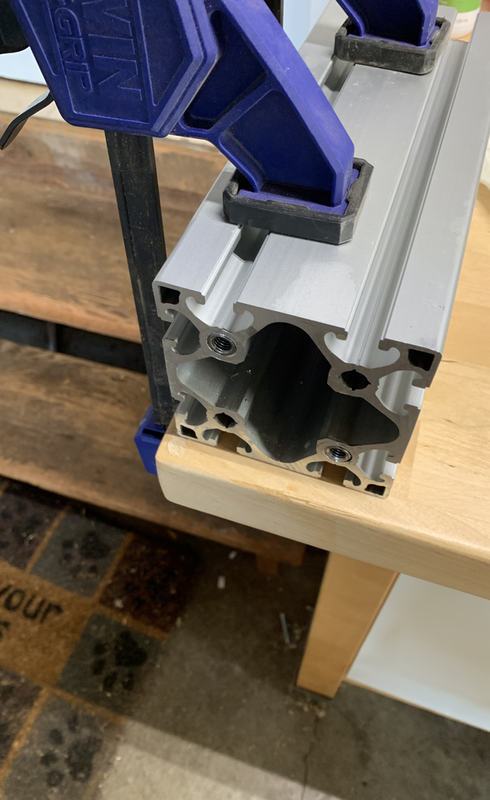 2 down, 30 to go, ughh, these are a lot of work. First tapping the aluminum, then the installing the insert. I tried using my battery impact driver, but it didn't have the torque needed to install the insert. One internet order later, i tried a larger AC powered impact driver. That had way to much torque, it mostly ended up stripping the threads on the bolt rather than inserting the insert.

One more internet order later i had a much longer wrench, and one with a built in ratchet end. This made installing the inserts by hand much less work. But that longer leverage means more torque, combine that with the damage done earlier with the impact driver and bingo, one snapped bolt, arrrrgggggghhh.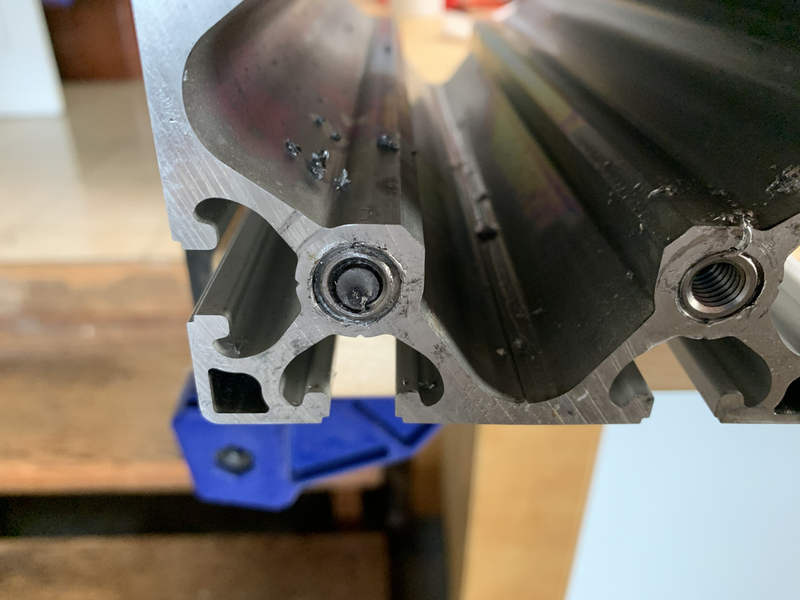 At this point I've spent a week on this and gotten a grand total of 7 installed inserts. One with a broken bolt stuck in it. One more internet order. when the bolt extract tool turns up this adventure will continue.