Simon Fell > Its just code
Pocket PC Network Programming
Im tired. Im drained. But, the first draft of "Pocket PC Network Programming" is now complete.
[
The Furrygoat Experience
] Cool, I look forward to seeing it, good PocketPC development books are few and far between.
Radio Questions.
1. Is the busy wait loop in Radio's FTP upstreamer (upstreaming via FTP always max's out the CPU) ever gonna get fixed ?
2. How can I stop Radio regenerating all the daily archive pages for the month when it creates a new day ? (I'm using the monthly archives, so this is acheiving nothing).
Thanks!
Tunes
If you like Metallica (and who doesn't?!?), you should pick up an Apocalyptica CD. I recommend Inquisition Symphony.
[
News from the Forest
] Ok, I ordered it, if its no good I'll be after you for a refund :) Most of my recent music purchases have been pretty uninspiring, I'm always open to recommendations though.
Schema
Dino Morelli hit a deal-stopper working on a schema for RSS 2.0.
[
Scripting News
] Nah, you can do that, I
posted an example
.
reads
Keith gave
Replay 4 out of 5
, I'd go along with that, even though I only brought it because I got the author Ken Grimwood confused with Jon Courtenay Grimwood (author of the excellent
Remix
and
Redrobe
). Other good recent reads have included Nicola Griffith's
Slow River
and
Ammonite
and Arthur Phillips's
Prague
(on
Kelley's
recommendation). On the technical side, I was impressed with
Don's
Essential .NET
RSS
There's now an
RSS feed
for my
pingbacks & trackbacks
.
1434
MS SQL Server Worm Wreaking Havoc. defile writes "Since about midnight EST almost every host on the internet has been receiving a 376 byte UDP payload on port ms-sql-m (1434) from a random ...
[
Slashdot
] Ouch, who are all these insane people running SQL databases open to the internet ?
GM
Wow,
74% of the American soy bean crop is genetically modified
. Is nothing safe to eat these days ?
KeithBa
RSS feed for KeithBa. Feeling pity on Keith, I've decided to create an RSS feed for him.
[
Sam Ruby
] Cooool, thanks Sam!
Heather Ashley Gentile
congrats to Sam and Sue
xbox
Looks like a
few
people
liked
the bloggers xbox session idea, but I need some practice, I just got a schoolin' from
James
. My gamertag is zak42.
IE caching
I was tinkering around with ASP.NET's
@OutputCache
directive, and noticed that IE will not bother to cache the page if a vary response header is returned. Pity, looks like all @OutputCache is going to do in the majority of cases is reduce server CPU load, and do nothing to cut down bandwith usage. [Opera unsurprisingly looks to do the right thing]
Compression
I couldn't let
Mark's challenge
go unanswered, so I just checked into
CVS
HTTP compression support for
Aggie
.
xbox
Splinter Cell. While I'm waiting for code to build.... I picked up Splinter Cell for the XBox this weekend (XBox is a great destresser after a day of writing code and writing...
[
snellspace
] Splinter Cell rocks!, and i can see Ghost Recon in my future as well. Seems to me that all the Web Services & .NET bloggers have xbox's now. Perhaps its time for a bloggers
MechAssault
session ?
PocketSOAP
If you've been seeing problems with PocketSOAP and HTTP 1.1 servers that return a
connection: close header
, then the fix is in
CVS
, there's also a
patched Win32 binary
. Looks like there'll be a 1.4.2 release sometime soon.
pingback
Sam is now
extracting excerpts
from pingbacks, cooool.
regex
Thanks to
Drew
for the
pointer to regex for Radio
this was something I was thinking of putting together before tackling a trackback client, that's saved me a job!.
KeithBa
Hey
Keith
's back !, Wooo Hoo. [Now, about that RSS feed........]
a pipefull of REST
Mark
talks about pipe & filter
in response to my earlier
post
. To me though, you don't seem to be comparing likes. You say its better because its always a consistent interface (i.e. HTTP GETs), but at that level so is SOAP, its always HTTP POSTs (for SOAP 1.1 anyway). As
Rich points out
in either case you still need to know the format of the payload, in the SOAP case, there's probably a WSDL doc to help out some. This is where I get lost in the twisty maze of identical rooms.
PocketPC docs
Well, after another ?#?@#!-exciting day chasing down issues with the Pocket PC implementation of MAPI (not to mention the horribly-inaccurate-worse-than-ever sdk documentation), im finally on the final chapter - the .NET Compact Framework.
[
The Furrygoat Experience
] Yeah, the PocketPC SDK docs are just painful, Who ever's in charge of them needs a serious kick up the arse.
evolved
Drew
has
some answers
to my serialization question. Thanks Drew!.
Peace March
Is currently working its way up
Market Street
, its packed to the gills, the diverted traffic trying to get up and down Mission St is pretty much gridlocked. If you have plans to drive downtown this afternoon, forget it!.
evolution
So I'm sure I've read how to do this somewhere (perhaps in
Ingo's book
?) but I have a .NET struct that has the [Serializable] attribute applied to it, and have a bunch of them serialized to a disk file. Now I want to revise the struct by adding a new field, how do I control the deserialization process that I restore my existing serialized data into the new format structs ? Back in the days where I used to implement IPersistStream by hand, I always had a version # in the serialized stream, so that the deserialization code could rev old formats upto the current format.
Huminity
Playing with
Huminity
this morning, what i'd like to be able to do though is say these two different email addresses are actually the same person. Is this based on FOAF ?
breeze
I can feel the breeze from that handwave all the way over here.
Rich Salz on xml-dist-apps
I think I GET REST (pun intended) better than most SOAPer's but I still strugle with some of
Mark
's arguments.
Watch your feet
Along similar lines to
Robb
and
Dave
's comments on Apples relations with indepenedent developers, there's been an interesting disuccsion on the carbon-development mailing list about Apple giving away the OSX dev tools (vs buying Metrowerks CodeWarrior tools). Apple sure seem to be busy stepping on people's toes.
jinxed
I
seem
to
be
jinxed
as far as wireless goes. I Installed some updated firmware on the WAP, which seemed to make the Tibook happier, at least iTunes will now query CDDB over the wireless connection. But tonight I think tops the bizare problems list. The server that recently got a wireless card has
Apache
/
php
/
gallery
running on it to look after the pictures from the digital camera. You can view & manage pictures fine with it, but attempting to upload new ones fails misserably, I poked around with the debug info turned on, it looks like its firing up a call to netpbm, which appears to be working, but PHP no longer spots that the spawned netpbm process has finished, and eventually times out the script. I switched the server back to a wired connection, and everything starts working fine again!. I'm at a loss to even attempt to explain this one.
electric car
xian
has
pics
of the blog-burger dinner, but did anyone get a picture of Raines electric car ?
pingback
There
appears
to be
growing
interest
in trackback and pingback, It'll be interesting to see what the answer to
this
is.
trackback threading
I implemented the RSS feed part of the trackback spec, so in theory at least
trackback threading should work
. But it
doesn't appear to be
, what am I doing wrong ?
Schoolin'
Despite
Kelley
repeatedly telling me that I'm British and shouldn't like American football, I watched the 49er's get a schoolin' at the hands of the Buccaneers, then watched the Raider/Jets game which was a vastly better game.
blog-burger
coverage from
Dave
,
Chris
,
Scoble
and
Tantek
learn to count
now the more elsewhere links show the pingback / trackback count for that post
pingback.root v0.4
Fixed a bug with the first link in a post not getting pingback checked if there was more than one link in the post.
trackback
After a
couple of tweaks
got a
trackback from Sam
Anniversary
Happy Birthday to Radio 8. One year old today.
[
Scripting News
] Happy Birthday to Radio, and that makes this blog
one year old today
trackback
Almost went to plan,
Sam
pointed out i'd got a typo on dc:identifier, doh !, fixed now.
Dinner
Hamburger Blogger Dinner in SF on Saturday nite. Scoble, Pirillo and me. And Tara Sue? Could be.
[
Scripting News
] Cool, see ya there!.
trackback
If everything went according to plan, the archive pages are now
trackback
enbabled.
RSS
The
RSS Validator
sample is up.
PocketSOAP
Just posted
v1.4.1
, contains HTTP and de-serialization bug fixes. I'll be posting the
RSS validator demo
I did a while back to the
samples
site later tonight.
pingback
My
Pingback status page
and the
individual post pages
now have post titles on them.
there's more
Pingback again.Trackback vs. Pingback: Simon thinks I confused Trackback with Pingback in writing this. No, that is not what I meant. Notice that in this list the others have more details listed but only the name of my weblog appears. That is what I was talking about.
[
Matthew Langham's Radio Weblog
] Ahh well, in that case, that's just the text from the title tag of the page. If you want to see the date in the title of your Radio archive pages, checkout
day 8
of
Marks
excellent
dive into accessibility
series.
new gig
It's true, it's true. I've been offered a fellowship at the Berkman Center for Internet & Society at Harvard Law School, and have, of course, accepted.
[
Scripting News
] Awesome, congrats to Dave on his new gig.
PocketSOAP
There's a
test patch for PocketSOAP
for those people having problems when talking to Weblogic hosted services. If you try it out, please let me know how you get on.
trackback
Pingback. I've just installed Simons Pingback client add-on for Radio. Does it work? Let's see if I can Pingback his article. It works! But only sends the Weblog name - what did I miss? That's cool though - great work Simon!
[
Matthew Langham's Radio Weblog
] You're probably confusing pingback and trackback, trackback provides excerpts. Trackback is next on the list.
pingback
The v0.3
pingback client for Radio
is now available, it now fully implements the auto-discovery aspects and also spawns off a new thread to do the pingback work, so as not to slow down upstreaming.
pingback
This post should pingback
this
earlier post now. it did :)
string.urlSplit
grhhhh,
string.urlSplit
doesn't split the fragementIdentifier off from the path
pingback
OK, the archive pages are now pingback enabled, you should be able to register pingbacks for new posts. I haven't got the results integrated into the weblog pages yet, but you can see an
overall list of pingbacks
. The pingback server is implemented with
Charles Cook's
excellent
XML-RPC.NET
library, thanks Charles! The archive pages advertise pingback via the <link rel='pingback' href='foo'> tag, so this won't work with the Radio pingback client I did. Next stop is to get that fixed
PB and TB
Pingback v. Trackback. I'm always looking for ways to extend the GeekBlog further into the world of RSSing and blogging, and now I've found two specs for tracking links back to one's weblog: pingback, and trackback. I need a show of hands here--which one is more frequently used? Should I implement both?
[
The Mountain of Worthless Information
] Trackback seems more widely used, mainly because its bundled in MT now, but pingback seems much easier to implement. FWIW, my plan is to get pingback up and running [
client done
, server almost done], then look at trackback again.
XML-RPC
Unfortunately before XML-RPC can hold this sort of position in the scheme of things the protocol needs to mature and allow strings containing the full range of Unicode characters. A protocol allowing only 7-bit ASCII characters in strings is a throwback to last century and has no place in today's WWW.
[
Cook Computing
] Whilst I understand that Dave wants XML-RPC frozen, I agree with Charles, this really needs fixing.
PowerBooks
New ultraportable Mac. I want it. ...
[
The Furrygoat Experience
] Get in line buster, I saw it first !!!
WS-Prediction
Mark Baker has
some predictions
on Web Services for the coming year.
Eclipse
Thanks to James for
reccommending
I move to the M4 release to get better start-up times and better CVS integration, I installed it earlier, and it certainly starts up a lot faster, haven't tried out the CVS console option yet. And yes this means I'm currently working on a Java project (actually a mixed Java/C++/Flash MX project that is cross platform Windows and Mac!)
OSX boot
Both
Peter
and
John
lament about how long OSX takes to boot, I'd say it takes about as long as the W2K boxes I've got. On the other hand the only time I've ever had to reboot it, is to install OS updates, other than that I just put it in and out of sleep. As an aside, I'm came to the realization this morning that Code Warrior is the Rational Rose of Mac development tools, it completely sucks, but is better than anything else available.
Pattern Recognition review
Seeing The Future In The Present. This one is for Simon. My Father wrote a quick review of William Gibson's new book Pattern Recognition. Its nice to be friends with someone at the local bookstore, that way you can read tons of novels before they come out ;)
[
Adam Wendt's Agnostic Audiophile Smorgasbord
] Coool, Thanks !!, I'll check it out.
KeithBa
KeithBa.com. Keith Ballinger who has dropped off the weblog radar for sometime now seems to have lost his domain
[
kilic.net
] Keith told me last week that he's moving to
www.keithba.net
although it doesn't appear to be up yet.
back in the saddle
I used to love cycling on the
high peak trail
, and I've been threatening to take up cycling again for a while and finally got around to it this weekend. Started off with an easy trip out to
Fort Point
and back. Saw San Francisco's micro climates in action, it was cold and foggy downtown, but warm and sunny out at Fort Point, I thought the fog would of burned off by the time i got back, but I reached Howard & Embarcadero, it was still cold and foggy, but 8 blocks or so up the street at
Yerba Buena
it was nice and sunny again!. Saw this great looking ship out at Fort Mason.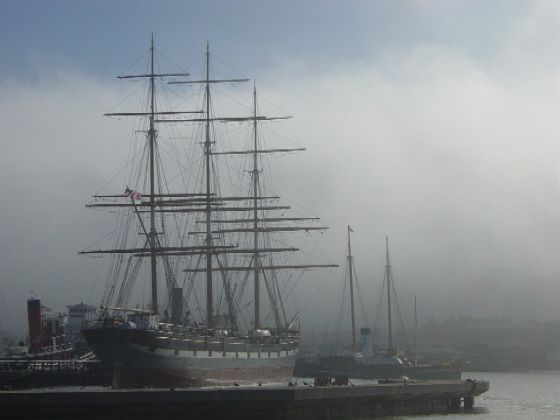 Discogs.com RSS Feed
If you like electronic music, this feed is for you, Discogs is a user created online database of electronic music releases, it currently has 88,101 releases, 63,006 artists and 10,764 labels in its database, and the releases are all cross referenced by artist, remixer, vocalist, and other electronic music related meta data. So now I've created an RSS Feed of the latest additions to the discogs.com database, here.
[
Adam Wendt's Agnostic Audiophile Smorgasbord
] Coooool, subscribed!
RSS
Not sure what's going on, but
rdf.root
seems to have given up, and my feed is back to being RSS 2.0. Need to investigate. Fixed, looked like I accidently added a node in the categories table for a post and that triped it up [as all the sub fields were missing].
William Gibson's Latest Novel
crumbz writes "It looks like the grand master of cyberpunk has a new novel coming out entitled Pattern Recognition.
[
Slashdot
] Awesome! <VBG>
Pingback
Here's a pingback client tool for Radio
. What, no server support? Slackard! <grin> [
Sam Ruby
] Sheeesh, get off my case already!!. I've been thinking about server support, Radio's static rendering makes this a little more challenging, but I'm sure that something centralized, along the line of how comments work in Radio could fairly easily be built. But the centrallized comments servers (both Userlands and YACCs) seem to suffer from downtown, which results in an endless stream of javascript errors when visiting the site, this is the main reason why I don't have comments turned on in my blog. Having said all that, as I'm hosting my blog with a 3rd party webhost, and not at Userland, I have some options to have serverside pingback support [and comments as well]. Something I'm going to tinker with soon.
storage
continuing the CD storage saga, Steve posted a
picture
of his CD storage unit.
pingback.root v0.2
got the URL fixed, so that it sends the real permalink of the post (including the fragmentID) rather than just the URL of the dayly archive page.
Pingbacks
Here's a
pingback client tool for Radio
.
pingback
If everything works, Radio should send a pingback to Greg's site for this
test post
of his. Wooo Hooo, rock'n'roll baby, it worked.
pingback
about half way there on the pingback client, have it hooked into the upstreaming, working out which posts to check, pulling links out, and keeping track of links it might of already pingbacked. Just need to do the HTTP request to check to see if the site supports pingback, and then then actual XML-RPC pingback call.
first post!
Here's hoping everyone has a kick-ass 2003!